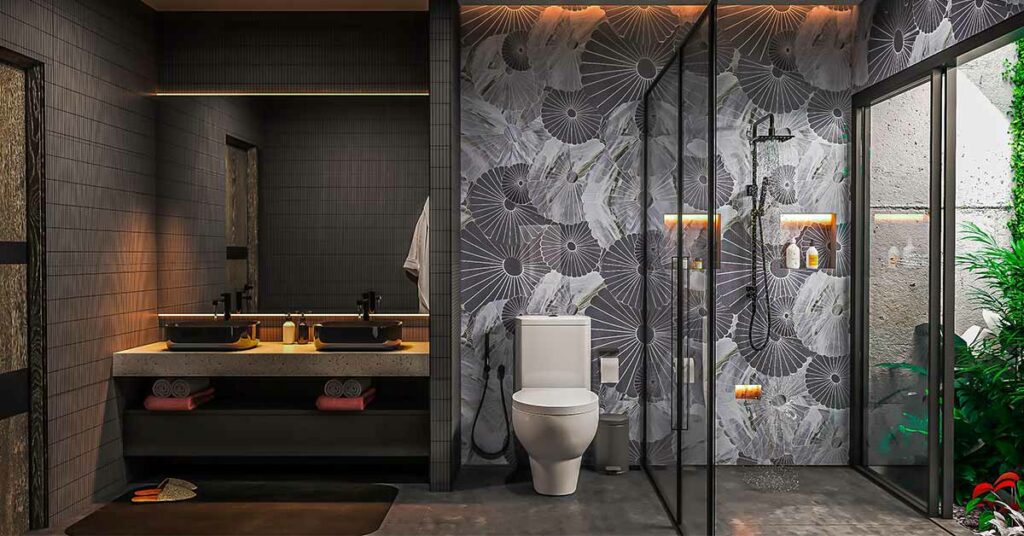 Critical Lighting Effects on the Appearance of Tile
Lighting plays an important part in interior design. When it comes to tile and stone floors, walls, and other surfaces, lighting is even more important. Well-planned lighting can showcase the appearance of your tile installation, while improper lighting can diminish it. In this article, we further illuminate this subject so that homeowners can make enlightened decisions about tile-friendly lighting.
Lighting has such a big impact on how we see tile installations that in the National Tile Contractor's Association (NTCA) Reference Manual there is a two-page section called Critical Lighting Effects on Tile Installation.
No matter how skilled, experienced, and educated a tile installer is, every installation will have some degree of imperfection. Industry standards specify what level of inconsistencies and variations are allowable for a quality tile installation. In most cases, an experienced tile installer can identify potential lighting problems and make recommendations to avoid them prior to the tile installation.
Strategic Shadow Play: The Art of Washing and Grazing Light
Natural light or carefully positioned artificial lights can soften or accentuate shadows. It depends on what kind of results you want.
Washing
For a smooth, monolithic appearance, position lights further away from the tiled surface. Point the light toward the surface to reduce shadows. Inconsistencies in the materials will not be as noticeable. This lighting effect is called washing.
Grazing
For certain types of tile and stone, such as textured, 3D, tumbled or chiseled edge, stacked stone, and the like, creating dramatic effects with lighting and shadows may be desirable. Position lights closely to the tiled surface. Pointing the lights at an angle that is almost parallel to the tiled surface. This effect, called grazing, will accentuate inconsistencies.
So Many Lighting Possibilities for Tile Installations
Do you want to create a captivating visual experience with tile lighting? Would you prefer a tranquil, understated backdrop? The creative possibilities for tile installation lighting are practically limitless. Copher Tile & Stone lighting installation services include:
Niches – a recessed area or cubby built into a wall, often seen in showers.
Line of light – a thin, linear light source integrated into or next to tiled surfaces.
Showers – line of light designed to withstand humid and wet conditions.
Backlit tile and stone – lighting installed behind translucent tile materials.
Cove lighting – upward-facing lights installed in a recessed channel along the upper portion of a wall.
Lighting can often be incorporated into existing tile installations. However, this option is only possible in some scenarios. Others will need to take place at the same time as your main installation project. Feel free to contact us with your tile lighting ideas, and we can let you know what is possible.
Dammit, Jim. We're tile installers, not electricians.
If you've seen the original Star Trek series, you may be familiar with Dr. McCoy clarifying the limitations of his profession to Captain Kirk, whose expectations were unrealistic. We find ourselves in a similar situation when it comes to electricity. As tile installers, we know where our area of expertise ends and an electrician's begins.
Jon Wommack, Wommack Electric
Jon Wommack, Wommack Electric, is an electrician based in Paso Robles, California, who has two decades of experience. When Wommack works on a project like this, he usually installs a drive in a closet or attic and then routes the electric for the lights to the drive.

Wommack recommends silicone-dipped LED lights with high-output, dimmable drivers. He prefers RGB/Violet capabilities, because they can provide "like a bazillion different colors." He says that homeowners should opt for a bent diffuser so that the lights are not harsh. He also recommends that homeowners upgrade to dimmable lights but warns that it is not possible to adjust the brightness or dimness of lighting connected to a Ground Fault Circuit Interrupter (GFI) outlet.

"None of what I do is brain surgery," Wommack says, "and tile installation isn't brain surgery. But they're both art forms that take knowledge and attention to details." Take the GFI outlet, for example. Wommack says, "GFI is not designed to accommodate dimming capabilities. The driver needs to be GFI protected, and the GFI has to be installed before the dimmer." Wommack explains that a tile installer should not, and in fact, cannot "babysit" an electrician to make sure things are done right.

Mistakes can result in very expensive and inconvenient consequences. Wommack illustrates the point by telling a story of a tile installer (not Copher Tile & Stone!) who used the wrong kind of lights behind a salt-brick wall in an athletic club. "Within a year he cooked the rope light, and the periodic LEDs just stopped working. It just looked like a broken worm."

Make sure you choose a tile installation contractor who will not take chances with your safety or your investment. A qualified contractor will always work closely with a reputable, experienced electrician to connect your lights properly.
William Jones, Illuminiche
William "Bill" Jones has been a tile guy since 1987. As he got older and aches and pains took over he realized he needed to get off his knees. He decided to invent solutions for tile installers. His company, Illuminiche, was plan B. Illuminiche provides "not only the world's first serviceable pre-lit niches but also a customizable placement of lighting source," and the products are "made right here in the USA." Jones explains, "I figured it is time to forward the motion of the LED niches."

Jones highlights some of the benefits of the products. This is by no means a comprehensive list:
Showcase sports memorabilia, art, and other items.
Waterproof and steam rated – units can be submerged.
Serviceable components
Incremented – since the lights are cuttable every half inch, this offers more design flexibility.
Three diodes per half inch, which means there is a nice, even glow, even without a diffuser.
4K mid-spectrum lighting lends to both cool and warm materials.
Magnetic coupling allows installation anywhere, which is handy for easy replacement.
The lights will operate for 8 hours a day for 17 years of use.
Illuminiche offers certain advantages when it comes to electricity. With other products, tile installers may run into compatibility issues. They must buy a driver, figure out where to put it, buy a special low-magnetic switch, and pay an electrician for a few hours work. On the other hand, the Illuminiche driver is built right inside the switch, eliminating compatibility issues. The electrician's fee is minimized, because they only need to hook up three wires: ground, hot, and neutral. There are two additional wires, blue and red, which are low voltage, like speaker wire. Tile installers can connect these.

"So, yeah. Our switch is golden," Jones says. Right now, Illuminiche is the only manufacturer who has this switch. "And there's nothing out there that is serviceable in case that light goes out," Jones adds. Illuminiche proudly offers a 5-year warranty on all their lights and switches.
Once other manufacturers catch up, we will be sure to update this article. In the meantime, if you are considering a lit niche in your tile installation, you may want to talk to your installer about Illuniniche. The company has quickly earned a strong reputation among tile installers.
If you are planning a tile installation, consider how lighting will affect the appearance of your tile. Incorporating lighting into your project is a relatively inexpensive upgrade that delivers impressive results. Do your homework when selecting a tile installation contractor, especially when it comes to tile installations involving lights.
by Alice Dean
---
Copher Tile & Stone proudly stays up to date on tile installation methods and the latest technologies in tile lighting with ongoing education with Mapei Technical Institute, Ardex Academy, the National Tile Contractors Association, Laticrete, and Schluter. Copher is a Certified Tile Installer (#1644).
Do you want a quote for a tile installation that includes tile lighting? Contact us online or call 805-286-7460. We are San Luis Obispo County's preferred tile installation company, serving Paso Robles, Templeton, Atascadero, Morro Bay, Cayucos, Cambria, San Simeon, Santa Margarita, San Luis Obispo, Avila Beach, Shell Beach, Pismo Beach, Arroyo Grande, and Grover Beach.